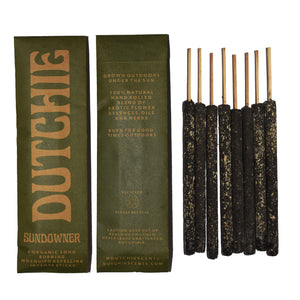 SUNDOWNER INCENSE FAT STICKS
8 ORGANIC LONG BURNING INCENSE MOSQUITO REPELLING INCENSE STICKS
A combination of organic, hand-rolled herbs derived from a sustainable single farming practice in the hills of Indonesia. 
This time with the added bonus of natural insect-repelling Lemongrass, clove and citronella.
Think of Sundowner as Sundazed's woodier little sister, best burnt whilst the sun is going down.
Place in an incense holder on a solid surface, light tip, blow out flame & enjoy.

Recyclable paper envelope + sealed paper bag
8 x 11cm (4 hour) long burning sticks for a total burn time of 32hrs per pack.
BURN FOR GOOD TIMES